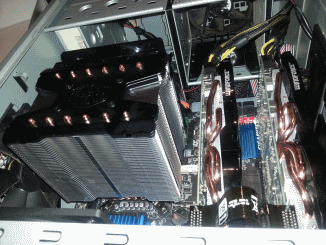 A colleague at work was telling me about their 14YO son who is saving money and building their own gaming PC. I think that's great, I've been building my own gaming PC's for 20 years (*cough* maybe more! *cough*) and while it's not something I would recommend for most people it's a bit of a fun hobby. You do end up swearing a bit and cutting yourself on the sharp edges of parts & the case but in the end you know the quality of the build and you're more likely to be able to troubleshoot and fix it yourself.
For most people, I would say buy a complete computer. The PC builders have hopefully done all the research on parts and quality testing of the components for compatibility and stability and if anything goes wrong you can take it back to them and its their problem to fix it and put it back together. On the other hand, if you build it yourself you have the same protection from consumer protection legislation so you can always "RMA" the parts and get replacements if they are faulty. It just relies on you to work out which parts are actually the problem.
Recently I had an SSD disk "suddenly become unformatted". I reformatted and reinstalled the OS and when everything seemed up and running it happened again. Faulty disk I assumed, but I assumed wrong. I bought a new SSD and the same thing happened. Turns out the SATA RAID controller on the motherboard was the problem. This could be flaky drivers or indeed a hardware fault, but on a 5 year old motherboard I didn't worry about working out which it was, taking the opportunity to upgrade. A friend was happy to take the motherboard (and CPU & RAM) off me in full knowledge of the dodgy SATA controller because there are other SATA ports that are usable.  I was able to re-use most of the parts including the now 2 SSD disks I have which I have turned into a mirrored RAID array.
So my colleague asked me for some tips for her son, so I sent this and I've tried to make it as timeless as possible. I think this advice was as valid 5 or 10 years ago as it is now (May 2013) , I've avoiding using model numbers and I predict this will still be valid until the PC actually dies and we're all using google glass whilst riding segways wearing fanny-packs (or bum-bags as we call them in Australia. Note in Australia a Fanny is NOT your rear) and a Fez, which if you can't read the sarcasm I think will not happen :p If the PC does die then some other enthusiast tech gear will turn up and if it doesn't then we will tear open your un-upgradeable apple obelisks and hack them anyway.
So here's my tips for building a good gaming PC that should last for years. My last one was over 5.
Research all the parts really well, read Tom's hardware website for reviews, or other PC hardware enthusiast forums. Chances are someone else bought the parts you are considering and will have comments.
 Don't buy the bleeding edge tech because it is flaky, wait for v1.1 is generally a good rule in IT.
Make certain all the parts are going to fit together, particularly the processor (CPU) and motherboard. The different slot/socket types are confusing.
Get an Intel CPU, I've had decent AMD processors in the past, and arguably if you like AMD (formerly ATI) Radeon graphics cards then it seems sensible that the AMD processor/motherboard chipset/ graphics card combo would work together but don't assume anything.  Historically Intel and AMD have taken turns with the best performing chips since the days of the Athlon (late 90's) but it seems Intel have been on top for at least the last few years. Things change though so see point 1, do lots of research and make up your own mind.
The heatsink/fan (CPU Cooler) that comes with the CPU is totally inadequate for gaming, you have to buy a good aftermarket one, that also fits the processor you buy. CPU's and other performance microchips in general get extremely hot and will burn out if the heatsink/fan is not drawing away the heat fast enough, although modern motherboards have thermal fuses to automatically shut themselves down if that happens so you are safe.
Even better than a heatsink/fan is watercooling. A bit like how a car uses a radiator filled with water to keep cool. But that's probably overkill unless you have a very high end system, or if you're a fan (:P) of silence. Heatsink/fans are noisy and watercooling can achieve the same cooling performance silently, or much better performance with noise.
Attaching a CPU cooler is the hardest part of building a PC. You probably need to turn the motherboard upside down to attach a back-plate which is quite fiddly. You need to apply the minimal amount of high quality thermal grease to the top of the processor to facilitate a really good thermal interface between it and the heatsink. It's a bit like polishing shoes, you need to apply a tiny bit with good spread, basically just filling in the microscopic pits on the surface so there is no air. Air is a thermal insulator so if there is air between the processor and heatsink then it will not operate efficiently. Good thermal grease has silver particles in it because silver has the best thermal conductivity properties of any metal (for the price and given its other chemical properties), but a good aftermarket CPU cooler should come with a little tube of this.
Don't buy the highest end graphics card because the price/performance ratio is not worth it.
Get the high range Intel processor if the budget permits, if not then a midrange is fine. Don't get the low-range/low power model and equally don't go for the extreme range because of the poor power/price ratio. Why pay double for 10% more performance?
If you have to compromise, rather get a better graphics card and the midrange CPU.
If you start by getting 1 stick of the largest size RAM you can always buy more of the same later on to upgrade. Yes you can get cheap "matched pairs" or quads but if you are on a budget then don't worry about it. Definitely don't get smaller sticks because it reduces upgradability. For example, if you've only got 4 slots to fill with RAM, and given you should put the same (quantity/frequency/timing and ideally brand/model) RAM sticks in each slot then going with the largest amount puts you in a good position in a year or two when the RAM will be cheaper and you've saved more money to buy it.
 Buy a good power supply with a minimum 80+ efficiency rating and ideally a single rail. Quad rail power supplies are trickier to connect, as you usually need to connect multiple rails to the graphics card. They were all the rage for a while there, but if you end up with crossfire or SLI multi graphics card setup it will be a headache. Make sure the wattage is more than enough for your parts. Particularly if you run multiple graphics cards, a high end CPU and multiple hard disks it will use more power.
Get a good case, that fits an ATX sized motherboard. Little cases won't fit the graphics card and CPU cooler in them. Clear windows on the side of computer cases are silly but that's my opinion. Even more silly are cold cathodes and other embellishments that make your PC look like it's trying to be one of those ridiculous cars in the Fast & The Furious movies. Air should flow in the bottom at the front of the case and out the back near the top of the case. Hot air rises, and cooler air will be drawn in from lower down. Face the CPU Cooler so it blows air out the back.
Finally, use http://www.staticice.com.au/ to check prices from lots of vendors, it's a meta-search for all things electronic (good for phones & cameras too!) This is an Australian site, but I'm sure there are good equivalents elsewhere.