Last week I went to buy the new version of Office, and was seriously considering the Office 365 subscription. There's some benefits, mainly you can run it on 5 devices and you get 20 Gig of skydrive storage. For a household with more than 2 computers, assuming you want to upgrade to the next version of Office when it comes out, the price works out OK versus buying Office 2013 outright.
So I went through the purchase process for Office 365 but couldn't complete it because I found a couple of problems.
Unfair pricing for Australia
The US version of Office 365 is US$10 per month, and the Australian version is AU$12 a month. I find that a bit cheeky given at the time the AU dollar was worth more than the US dollar, and given there is no administration in sending discs (it's entirely electronic) there is no justification for charging more. It's also not possible to buy it via the US site without having a LIVE account linked to a US address and credit card. That is possible to do but a bit of a pain, and I don't see why I should have to be dishonest to get the fair deal. UPDATE: The AU dollar is now worth less than the US dollar, but nowhere near enough to justify a 20% price increase.
Billing details from LIVE problems
The second problem I came across was that when you log in to LIVE, the office 365 purchase process doesn't show the current billing info. In fact it showed billing info and a home address from about 7 years ago! UPDATE: The office 365 billing process now shows no billing information at all, and wants me to add a new payment method: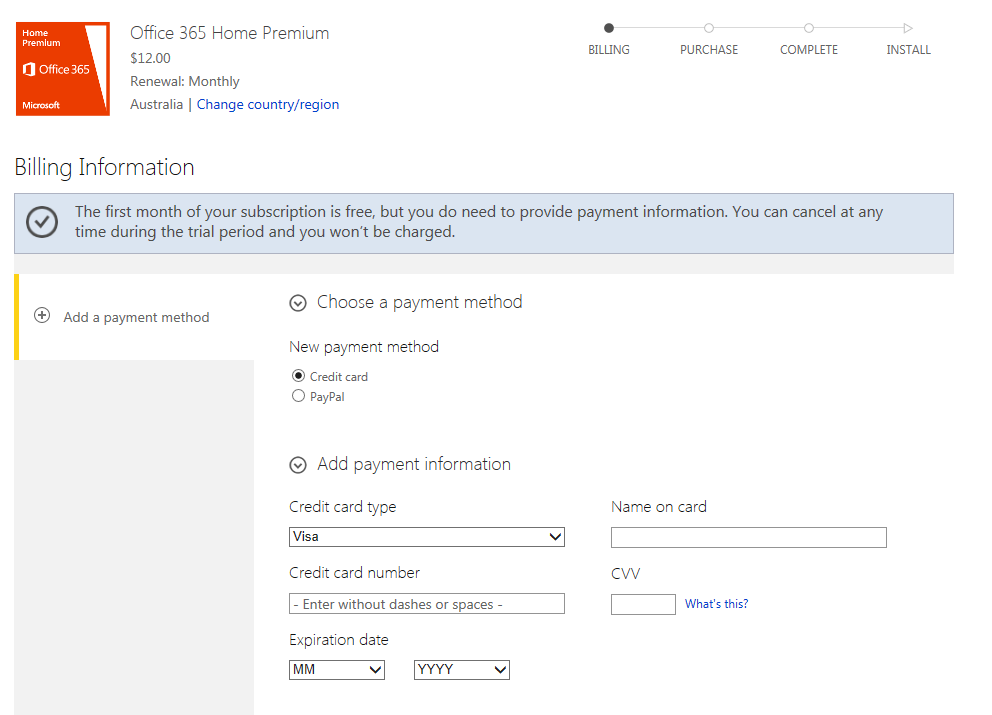 The Office 2013 purchase process reads my billing info perfectly: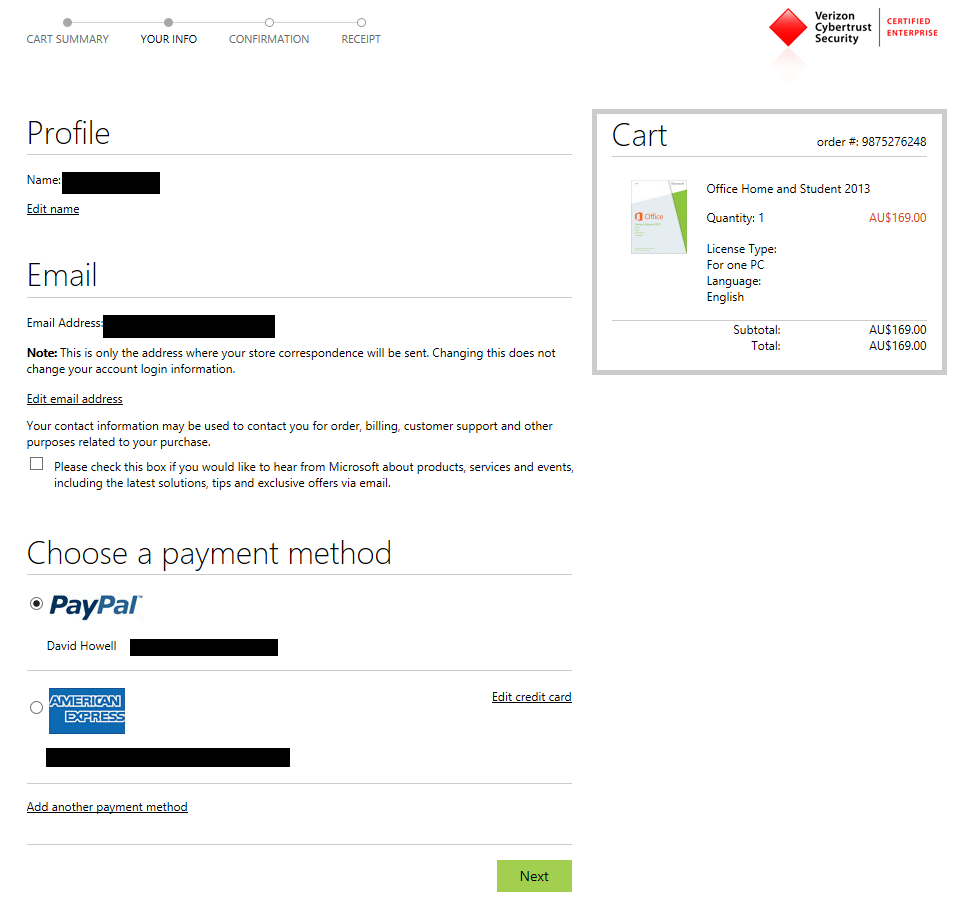 Are these different teams? Why the inconsistency in the sales process? Generally Microsoft customer service is very responsive but if their e-commerce systems are not working properly it will turn people off. I suppose most Office purchases will be either part of new PC purchases, in-store, or as part of enterprise agreements. Even still, SAAS /Cloud / Online only is constantly being espoused as the future so you'd want to get that part working smoothly.
In the end I gave up on 365 and bought Office 2013 Home & Student. Unfortunately I've since discovered that PowerPivot is not available in this version of Excel, you need professional plus. So I'm not sure what I am going to do there. It makes the proposition of using PowerPivot a lot less attractive if a business with 1000's of users has to buy the $600 version in order to get that functionality. At the very least they should be able to consume PowerPivot workbooks, but that's another debate. I hope Microsoft reconsider this move because it makes their Power View/PowerPivot data visualization offerings a lot less competitive when compared to superlative solutions like Tableau.